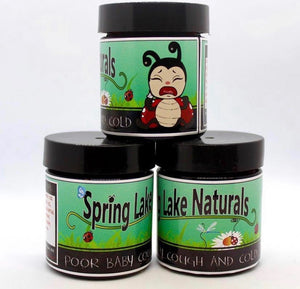 Poor Baby Cough and Cold Rub
Poor Baby Cough and Cold is our all natural topical for colds and flus to help relieve congestion and help you feel better with all natural ingredients.  Just rub on your chest and throat for temporary relief of congestion and rub on joints and muscles for temporary aches and pains relief.

Ingredients: Base oil (Calendula, Comfrey, Olive Oil), Grapeseed Oil, Beeswax, Peppermint Essential Oil, Eucalyptus Essential Oil, Rosemary Essential Oil, Lavender Essential Oil, Camphor Essential Oil, Ravensara Essential Oil and Winter Green Essential Oil.
---